It should be noted that at the point of 2010 October, I had been
coloring everything with a mouse
. Around this time, I managed to secure a bamboo wacom tablet and things went crazy. Lets dig into the historical archives shall we?
At about this time I obtained the bamboo, but I had one last group of icons to make before it happened. With it, I also discovered the color layer in photoshop and basically went nuts with it.
These and many like it were all victims shall we say to my color process, as I eschewed the multiply for a long time. You can see that I also layered a Soft Light on top of everything and basically sort of lost my mind for a while.
While I had my brief love affair with color, I soon returned to my roots, changing a few things here and there. Things like this were soon created, via experimentation with blonde hair and tones.

Around this time I revisited an older image, one that sticks out in my head. Around this time the Negima anime was being revisited and we got official colors for some of this stuff so I wouldn't have to jury rig. Thus resumed my torrid affair with color picking. Also with my wacom I was able to start doing bigger things in bigger scales.
Around this time I started to throw up my hands again and experimented with tones and layers again. But with the wacom I had greater control over my colors.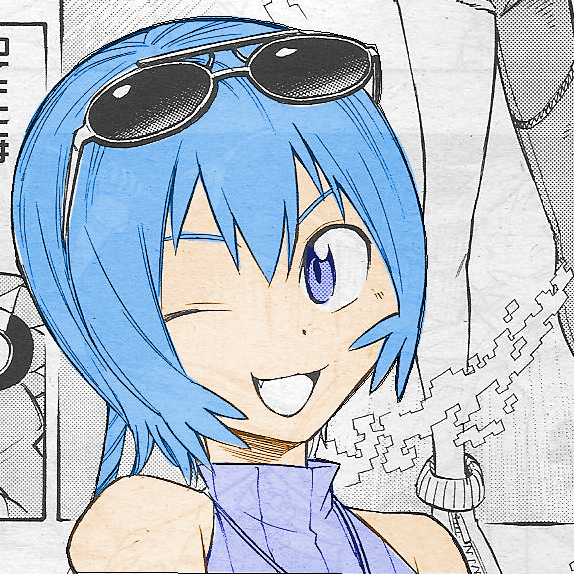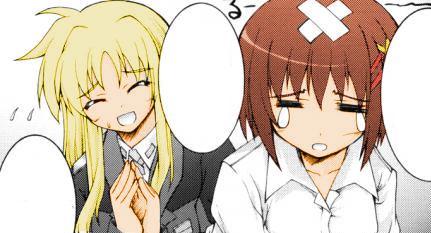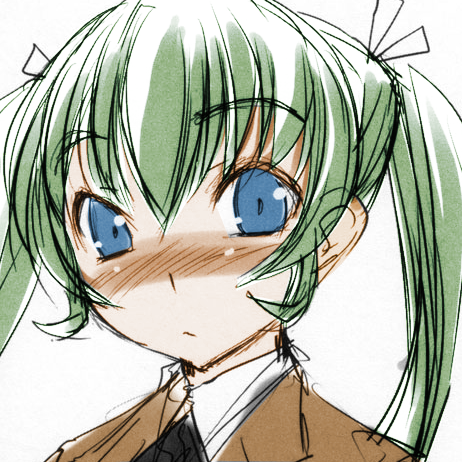 About a few months into being in

srwug_alpha_rp
I was commissioned to do a few Char icons. I sadly never finished the lot due to time constraints but I started experimenting lightly with tones and shadows preliminarily. I also obtained a nice picture of Hayate Yagami with a wonderful skin tone to color pick off of, but I had yet to discover a few more tricks.

At about this time I also went nuts with Hayate Icons, and shifted styles in the middle of it. While I went with a more natural appearance for these ones, I also shifted tone, using multiply and color intermittedly to varying results.
Before:
After:
As one can notice, I got this really weird idea that layering the skin in color was a good idea. It worked half the time.
Also at about this time I discovered vectoring and changing colors via hue/saturation and did this recolor for a friend:
Then for a while I think I hit my pinnacle with blonde hair. Blonde hair was always a max deterrent for me to actually make something work.
I managed to figure out how to do it without relying on tones. Also red hair.
At this point I also experimented with real life backgrounds too. Going from this to this.


Aound this time I discovered how flawed my skin tone was even in these varying Vivio recolors.
Okay:
Not okay:
Well now that's just really off.
At about this time I also went absolutely ridiculous and changed my whole style based on someone else's tutorial. It didn't stick. I had some good ones but a lot of them weren't very good.
Great:
Too light/omg...
Then I realized I shouldn't one upmanship someone in a fast recolor but that's a story for later.
After realizing that my skin tone was retarded, I started playing in layers again. And discovered that doing tone colors in color with a duplicated layer set to Color Burn was amazing.
Around this time of discovery, I completely freaked out and did a short stint in dual tones and colors and multiple layers and just went nuts. The end result is as follows:
Pretty huh? But I was still being foiled by being reliant on tones.
This requires being here for posterity. Someone was stating my colors were still too flat so I tried using this with poor results.

At about this time and a bunch of recolors later, I decided to reapply my skills for icons again. And did these using everything I had learned.

But there was still something missing. Something called shadows. Also, there was a big note that tones left terrible dots everywhere. So after last night I started smoothing out things with the blur tool and was, well, inspired.
Before:
After with Shadows:
And with that I leave you all with a grin. Here's to another two years of colors!